Introduction: Unveiling the Cost of Penis Enlargement Surgery in India
Penis enlargement surgery, also known as penile augmentation, is a cosmetic procedure aimed at enhancing the size and appearance of the penis. It is a topic that has gained considerable attention in recent years, as men seek to boost their self-confidence and improve sexual satisfaction. One important factor to consider when contemplating this procedure is the cost. In this blog post, we will delve into the details of how much penis enlargement surgery typically costs in India.
Understanding the Factors:
The cost of penis enlargement surgery can vary depending on several factors. These factors include the reputation and expertise of the surgeon, the location of the clinic, the type of procedure performed, and the facilities provided. It is crucial to choose a qualified and experienced surgeon who specializes in cosmetic urology to ensure safe and effective results.
The Cost Range:
In India, the cost of penis enlargement surgery generally ranges from INR 1,50,000 to INR 4,00,000. This range encompasses both surgical and non-surgical procedures, such as fat transfer, dermal fillers, and penile lengthening techniques. The specific technique chosen, along with individual requirements and goals, will contribute to the final cost.
Additional Expenses: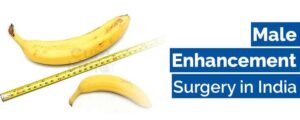 In addition to the surgical fee, there may be additional expenses to consider. These include pre-operative consultations, laboratory tests, anesthesia fees, hospital charges, post-operative medications, and follow-up appointments. It is crucial to discuss these aspects with the surgeon and factor them into your budget.
Importance of Research and Consultation:
Before considering any form of surgical intervention, it is crucial to conduct thorough research and consult with multiple qualified surgeons. During these consultations, the surgeon will assess your unique situation, discuss your expectations, and recommend the most suitable procedure. They will also provide a detailed breakdown of the costs involved, helping you make an informed decision.
Conclusion:
Penis enlargement surgery can be a life-changing decision for individuals seeking to enhance their self-esteem and sexual satisfaction. In India, the cost of such procedures ranges from INR 1,50,000 to INR 4,00,000, depending on various factors. However, it is essential to prioritize the expertise and reputation of the surgeon over the cost alone. Always remember to thoroughly research your options, consult with multiple surgeons, and carefully consider all aspects before making a final decision. Your safety, well-being, and satisfaction should be the top priorities throughout this journey.
Disclaimer: The information provided in this blog is for informational purposes only and should not be considered as medical advice. It is always recommended to consult with a qualified healthcare professional for personalized guidance and information regarding penis enlargement surgery.